Assam CTC Tea in Rajasthan
Rajasthan is one of the biggest buyers of Assam tea.
We sell tons of our tea to Rajasthan directly from Assam.
Our buyers consists of big wholesalers to new wholesalers.
Our tea is popular in Rajasthan because our tea quality is better and price is always cheaper.
We supply it directly from Assam gardens without engaging middlemen, so you can buy our tea at Assam price.

Wholesale Price for Rajasthan
Our current CTC Tea wholesale prices/kg are
(Better quality Assam Tea for Retail sale, We suggest Retail Tea)

From Tea Gardens On 24/06/21
Minimum order is 500 KG. But you may start your business with 100 KG tea at an extra premium of Rs 20 per KG over the current prices mentioned below. This offer remains valid till disruptive Covid 19 period and only for new startups.

Grade   
Garden OT  
Garden PB1  
Garden CP  
Garden PB  
Garden RK  
Blend
Bop
Bopsm
BP
BPsm
OF
PD
Dust
WhiteTea
YellowTea
GreenTea
₹ 0
₹ 190
₹ 220
₹ 220
₹ 0
₹ 0
₹ 210
₹ 0
₹ 0
₹ 0
₹ 0
₹ 200
₹ 200
₹ 200
₹ 200
₹ 0
₹ 200
₹ 200
₹ 200
₹ 0
₹ 0
₹ 0
₹ 210
₹ 210
₹ 210
₹ 210
₹ 210
₹ 210
₹ 210
₹ 0
₹ 0
₹ 0
₹ 0
₹ 220
₹ 220
₹ 220
₹ 220
₹ 0
₹ 220
₹ 220
₹ 220
₹ 0
₹ 0
₹ 0
₹ 0
₹ 280
₹ 280
₹ 280
₹ 0
₹ 280
₹ 280
₹ 0
₹ 1600
₹ 1300
₹ 750


For Related Tea Images on Sale

Click

then Scroll Below.

From Auction On 28-06-2021
Sl No
Garden.
Grade
Quality Score
1 to 10 Scale
Price in Rs
Quantity (K.G.)
01
ARN
BOPsm
4.75
₹195
463
02
ARN
BP
5.75
₹195
478
03
GNV
BOPsm
6
₹300
640
04
GNV
BOPsm
5.25
₹280
798
05
GNV
BP
6.25
₹300
678
06
DRB
BOPsm
7
₹280
126
07
DRB
BP
7
₹280
100
08
FND
BOPsm
6.25
₹238
678
09
FND
BP
6.75
₹238
718
10
PCK
BP
5
₹195
317
11
PCK
BP
5
₹195
522
12
PBK
BOPsm
6.75
₹225
678
13
PBK
BOPsm
7
₹225
678
14
PBK
BP
6.5
₹225
698
15
PBK
BP
7
₹225
698
16
PBJ
BP
5.35
₹200
1018
17
DNG
BP
5.75
₹210
678
18
ARN
OF
6.25
₹195
358
19
DRB
PF
6.75
₹275
100
20
GNV
OF
6.75
₹280
720
21
GNV
OF
6.75
₹275
540
22
PBK
OF
6.75
₹225
718
23
PBK
OF1
5.25
₹180
678
24
PBJ
OF
5
₹200
1118
25
DNG
PF
5.75
₹205
718
26
DRB
PD
6.75
₹275
112
27
DRB
Dust
7
₹275
112
28
GNV
PD
6.25
₹220
950
29
GNV
Dust
6.25
₹220
600
30
FND
PD
6.25
₹231
798
To avail wholesale price, please order at least 500 kg at a time.
You may also buy all or any combination of grades together totaling 500 KG.
Transportation from Assam to Rajasthan and 5% GST extra.

Tea sample for Rajasthan
We will happily give free tea sample to all buyers, but problem is, we sell our tea throughout India, even giving free 10 gram tea sample to 125 crore Indian is a magnificient costly affair.
You may take maximum 1500 gram samples, consisting of main 15 qualities at Rs 1500 including Speed Post courier charges. Alternatively, You may take 6 samples of 100 gram each at Rs 600.
You can make 40 cups of tea with our 100 gram sample.
We do not sell sample. Sample charge will be refunded on your first order.The money you deposit is a proof that you are a genuine tea businessman.


Payment
You may deposit money in our bank account for Sample tea.
Numbers are -- Alpana Dhar, A/C No-10631000036708, IFSC No- HDFC0001063, HDFC Bank, Silchar - Assam.
Or at Nilanjan Dhar, ID- 310119309, A/c No - 3246221369, Post Office Savings Bank Account, Silchar Head Post Office, Assam.
Or at UPI ID is 9435700934@axl
You may deposit money in our bank account for Wholesale tea.
Numbers are (When Buying From Gardens) -- Assam Tea, A/C No-U61990003, IFSC No- PUNB0311000, Punjab National Bank, Silchar - Assam.
(When Buying From Auction) Originalitea Private Limited A/c No- 03451100002798, IFSC PSIB0000345, Punjab & Sindh Bank, Silchar - Assam
Sample - Please deposit Minimum ₹ 600 for main 6 Tea samples, and Maximum ₹ 1500 for 15 sample. Then Whatsapp your full address with pin code and payment receipt. Next day, we will courier it.
Or you may also take minimum 35 kg tea @ Rs 300 per KG pius 5% GST plus Transport.
Tea Order - To order tea, please deposit at least Rs 50000 as advance and email your address, GST number and your detail requirement.
We will issue Proforma Invoice after receiving advance.
Balance after we finish packing, approximately after 3/7 days.
Once you pay the balance, we will immediately dispatch it.
Tea Auction Price
After making tea, all tea gardens send the tea samples to their respective brokers. Brokers in turn evalue it and decide about expected price. Tea gardens may accept the decided minimum price or may not accept it.
If accepted, tea is sent to to auctioning city. In case of Assam, it is in Guwahati. Generally transportation charge comes to Rs 3 to Rs 4 per KG. Then the tea consignment is put in a warehouse. Warehousing charges are approximately Rs 1 per kg in the first month. If it is kept more than a month then charge goes up to approximately Rs 4 or more per kg per week.
Finally Tea Broker will charge 1% from the seller and 1% from the buyer.Say tea is sold at auction at Rs 100 per KG. Then Rs 100 minus transportation Rs 3, minus Rs 4 for warehousing - Rs 4, minus Rs 2 Brokerage= Rs 87 is the amount the seller garden is getting approximately. We have not deducted GST, because that you have to pay either you buy it from garden directly or through broker.
Only problen is, 99.99% gardens wont sell less than 10000 kg at a time. Where as, buying it from a broker could be as less as 5/600 kg or one lot of tea. But, you will spend around Rs 20 more.
Packet tea Distributorship for Rajasthan


Sale Your Own Rajasthan Tea


Quality Assam Tea Buying Months.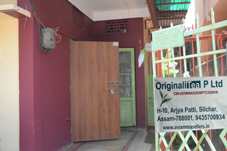 ORIGINALI
TEA
Private LTD Office
GSTN 18AADCO2473K1Z6
Our Tea on 24-06-21 No Digital Modification has been Done
except resizing. But it is always better to check actual tea samples. Because images do not represent actual quality.
You may Mail us at
Register /Login
Tea Grades Means